A traditional St. Louis area Army/Navy store celebrating nine years in business this summer,
​and over thirty years of experience working in army/navy stores in the St. Louis area,
​Give me a call
​Tom 314 830-7827

​​

---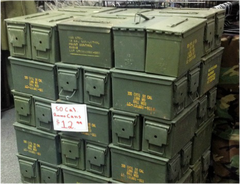 50 CAL. AMMO CANS,
​SUPER CLEAN
​$12.99 each
---
Dog Tags Printed while you shop
Custom printed dog tags made for our customers while you shop.
Your choice of dog tags. Dull silver, shiny silver, gold, black, or WWII notched
chains are 18", 24" and come in silver, gold, and black.
We also have the rubber dog tag silencers in a variety of colors, including
black, woodland, ACU, urban (black & white camo), pink camo, rainbow, and red, white and blue
two tags printed with a chain $9.99
two tags printed with a chain and silencers $11.99
We also do large orders for all kinds of groups and organizations.
contact us for discounted quantity pricing.
---
Military surplus
Military surplus is not as abundant as it once was, however Stars & Stripes is committed to finding good quality genuine U.S. made military items. Always in stock ammo cans, duffle bags, desert boots, ACU's, sleeping bags, mosquito bars, canteens and canteen covers, ALICE packs, woodland BDU's, along with a variety of unique, and one of a kind items.
Stars & Stripes also carries a great selection of military flags, pins, patches, T-shirts, hats, stickers, and auto decals,
Many more novelty army, navy, air force, and marine items available and in stock at Stars & Stripes Outfitters
---
Survival/Tactical gear
Weather your looking for some MRE's for a camping trip, or you need food rations with a 25 year shelf life, so you can hunker down for a while, Stars & Stripes has individual meals, and sealed containers with multiple servings. we deal direct with wise foods
and can accommodate you for a weekend outing, or help prepare you for an unexpected emergency. Fire starters, water purification systems, blankets, gas masks, survival knives, shovels, bug out bags, can all help to make you prepared.
Gun holsters for leg, hip, ankle, or shoulder all available and in stock at Stars & Stripes. Holsters and tactical products from Fox Outdoor and Blackhawk.

---
Police/Security equipment
Whether your a patrolman looking for belt keepers and a new pair of Bates boots, or your a department head, and you want the latest uniforms for your team from Tru-Spec,
Stars & Stripes Outfitters
can provide exactly what you are looking for, within your budget and time frame. Department referrals available upon request
Stars & Stripes stocks police and security sweaters, dickies, and polo's, as well as leather duty gear in basket weave, plain, and hi gloss. Nylon duty gear in stock as well. Smith & Wesson cuffs, and batons, streamlight flashlights, badge wallets, and leather belt gear from Boston Leather
off duty holsters from Blackhawk, range pants, duty shorts, and more

Inquiries to Tom@starsandstripesoutfitters.com
your question answered in minutes...
---