Military Surplus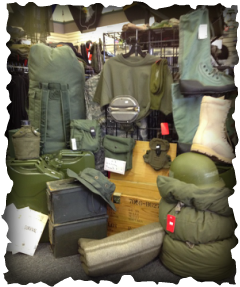 *GI 4 pc modular sleeping bag system in stock woodland $149.99
​*woodland GI poncho liners

*steel bunk frames, great for deer camp $44.99 each, NOW $19.99 each

*Air Force N-3B parka, like new, mens medium $99.99


* black intermediate nylon sleeping bags $49.99

*new and used large ALICE packs $$59.99 to $79.99

* wool blankets $24.99 and up
* GI D-3A glove liners, GI, not copies $5.99
* dessert, jungle, and combat boots in stock starting at $36.99
*Woodland used BDU shirts small, medium , large $16.99
*brand new GI 2qt canteen and cover $14.99
*used great condition GI mess kits $12.99
*uesd G I canteen cups $14.99
*GI pistol belts $14.99 with the big black QR buckles, like new, old style buckle $10.99
*MRE's $9.99 each, or by the case
*New G I OD M-65 liners $24.99 all sizes
*G I M-17 canvas Gas Mask Bags $1.00 each (*I have about a 1000 of them)
can you or your org. use a bunch of them? inquire below

In stock at Stars & Stripes 314 830-7827 or for more info Tom@starsandstripesoutfitters.com
inquires answered in minutes






---
emergency preparedness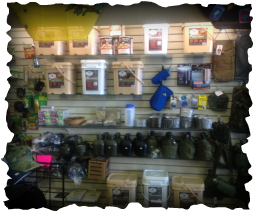 Wise freeze dried foods, with a 25 year shelf life
Emergency supplies are always in demand, thats why Stars & Stripes
stocks a great selection of Wise freeze dried foods. Individually packed
meals, with a 25 year shelf life, self contained in a resealable, stackable container, available in all meat servings, or vegitarian.
Water purification tablets, and filters, water storage jugs, canteens,
water bottles, all available, and in stock at Stars & Stripes.
Military style MRE's in stock and sold by the case or individual meal.
All MRE's come with a heater, and are ready to eat right of the pack
Bug out bags, in a size and style to fit your needs.



---